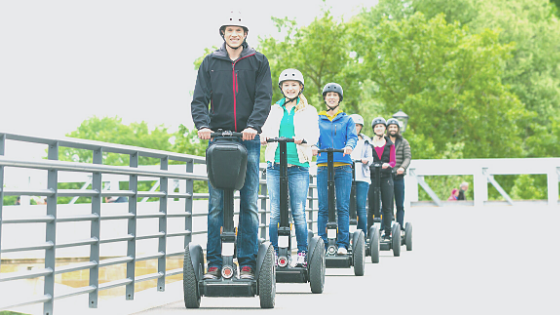 Every industry has taken a major hit over the past two months, and that's especially true for travel and tourism. With shelter in place orders across the globe, tours were brought to a standstill with few, if any, options for driving revenue.
Now, as quarantine orders are being lifted, tour companies are eager to resume their unique tour experiences and begin generating revenue again. Yet, there are precautions they must now take to ensure the safety of both the tour group members and their staff.
Requiring everyone to wear masks is a prerequisite. Limiting the number of people in any single tour group is wise. Modifying tour sites and attractions to avoid crowded areas should be considered. But how can people hear the tour guide when everyone must stand at least six feet away?
Our AudioFetch technology is the perfect solution! Using our FetchExpress portable audio streaming device, tour guides can broadcast their voice to anyone within 300 feet in any direction. This allows for ample distance between tour group attendees, and provides your business with a responsible and marketable advantage.
How Does AudioFetch Make Tours Safer
Our FetchExpress solution is lightweight, portable and has built-in Wi-Fi, turning the tour guide into a walking hotspot for listeners. Installing and using FetchExpress is incredibly simple, and requires just a few steps:
Install FetchExpress – Turn on the FetchExpress and plug in the microphone. Seriously, it's that easy!
Download AudioFetch App – Tour members download the free AudioFetch App to their smartphone or tablet, connect to the FetchExpress Wi-Fi network, and launch the app.
Ensure a Safe Distance – Make sure the tour guide and members are standing at least six feet apart and maintain this distance if it's a walking tour or there's any movement required during the tour.
Start the Tour – The tour guide speaks into the microphone and members listen via the app.
For more stationary tours, or so that entire families can hear together, a bluetooth speaker can be paired with the phone or tablet to extend the audio.
We also include a free wireless tour guide accessories kit with each purchase, freeing up the tour guide's hands to point out important sights and ensuring they don't run out of juice on longer tours. The accessories kit includes a hip pack, a headset microphone, a USB battery, and a battery charger cable.
As the travel and tour industry begins to reopen, it's important to take the necessary precautions to protect everyone involved. It's also important that potential customers know about the measures you're taking, and feel confident that their health and safety will not be jeopardized during their experience with your tour business.
If you have questions about how AudioFetch allows you to run tours more responsibly with our tour guide system app and WiFi audio stream, do not hesitate to contact us. We look forward to helping you get your tour business back up and running, and doing so in the safest way possible.