When you make the smart decision to install AudioFetch in your business, whether it's a sports bar, house of worship, fitness center, educational facility or any other venue, you are provided with an added benefit to help further promote specials or events at your business.
Each AudioFetch customer is able to place ads or graphics within the app for free. Any guest at your business using AudioFetch will see the ads at the bottom of the app screen. You can direct users to your website or social media channels, include notifications about discounts or special events, add an email address or phone number for them to connect with you, or near innumerable other options.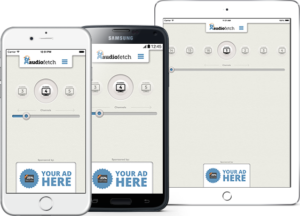 It couldn't be simpler to add these ads or graphics to your app! Just follow the steps below:
Log in to the ad porter at

www.audiofetch.com/ads

Enter the username and password provided to you in your AudioFetch manual

Upload your ad or graphic
Not sure what to include in your ads? Below are some ideas for different types of venues:
Food or drink specials

Happy hours

New menu items

Aired sporting events

Holiday or other special occasions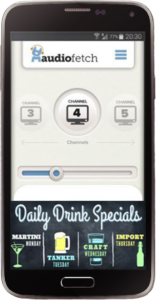 Drink or food specials

Happy hours

New menu items

Bands/musicians

Holiday or other special occasions
Link to program

Link to weekly schedule

Church announcements

Events/special occasions

Amenities/services
Link to class schedules

Special member events

New equipment and/or member benefits

Food/drink specials at fitness center cafe
Link to lecture/course program

Link to campus map

News/announcements

Link to events calendar
Link to arrivals/departures schedule

Ads for terminal restaurants or bars

Link to airport map

Link to weather notices

Notices about amenities/services (e.g., charging stations, water bottle filling stations, left luggage)

Quick travel tips
Hospitals
Healthcare notices (e.g., Get your flu shot today!)

Link to hospital map

Quick healthcare tips

Links to job postings

News/announcements

Link to events calendar
Deals/promotions on hotel rooms

Food or drink specials

Link to entertainment or events calendar

Link to map of casino

Announcements about tournaments
If you need to confirm your login credentials for the ad portal, please call 888.330.4283, extension 3. And if you have other questions about taking advantage of this ad space, please don't hesitate to contact your AudioFetch representative.