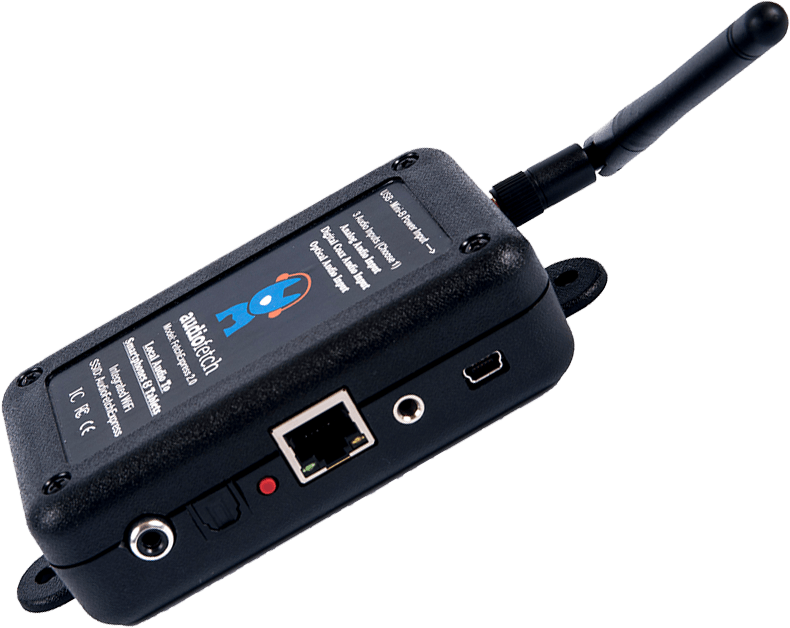 Single input, use up to eight in one area
Wi-Fi built-in
Powered via USB jack or wall outlet
Cable-free installation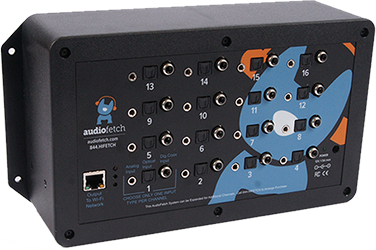 1 – 512 Inputs
Connects to your router
Cabled installation
Rack-mountable
Need real-time translation, hearing assistive technology, audio streaming to overflow areas, or all of the above? AudioFetch is the perfect choice to help your congregation hear better.
Why AudioFetch for Churches?
AudioFetch is the proud creation of Broadcastvision Entertainment and Waio Inc., leveraging over 15 years of experience to create the premier next generation wireless audio product.
With AudioFetch you can replace clunky, maintenance-intensive (think dead batteries!), unhygienic assistive listening devices with smartphones, and eliminate messy wiring. Listeners love using AudioFetch discretely through their own phone or tablet rather than worrying if a receiver is available or if they "qualify" for one.
AudioFetch is simple to install–-plug it in, connect to existing WiFi or use our integrated WiFi, and start broadcasting immediately. Unlike other assisted listening devices for churches, there are no recurring fees–-purchase AudioFetch (or have it donated) and you own it outright.
Ready for a next-generation assistive listening and translation solution? Contact us for a free consultation and custom quote.
Real-Time Audio Streaming
Guaranteed low audio latency. Smartphone audio syncs to TV video or audio being broadcast.
Customize Your Marketing
Display your logo & custom ads within the app to a captive audience.
API Ready
Have your own app? Integrate AudioFetch into your own app using our API.
Hassle-Free Installation
Plug-n-play installation using your existing Wi-Fi – no custom configuration required.
Multiple Input Types
Accepts 3 types of audio input (analog, optical or digital coax).
From 1 to 512 Audio Inputs
AudioFetch is efficient, flexible, and provides maximum performance across all applications.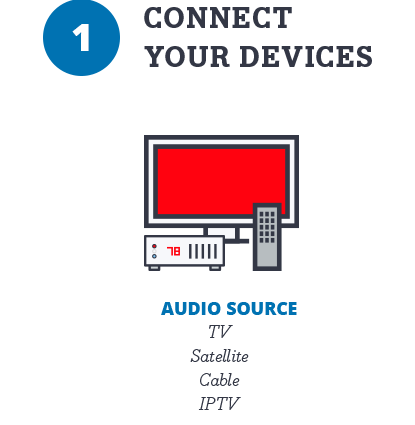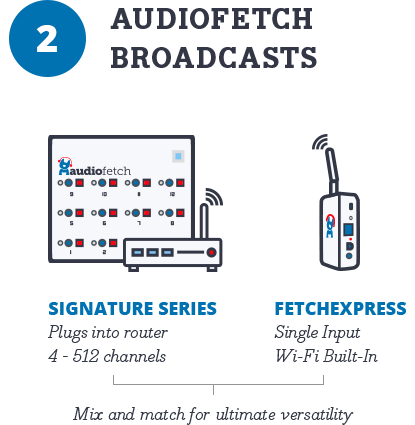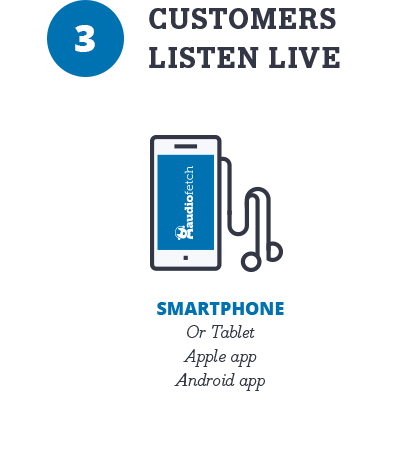 What Our Church Customers Say
I recently purchased AudioFetch Express to add hearing assistance to our Sunday worship services. I was excited about all the features and the ability to use the same device for inside the church and for tours. I am very impressed with how easy AudioFetch was to set up and use. My hard-of-hearing parents felt it worked well also. Integrating AudioFetch into our church audio system was a breeze. We were able to get multiple users up and running quickly. For any questions we had, we received excellent support. Highly recommended!!

Our Saviour's United Methodist Church
We are taking audio from our adult class and our worship service and sending it to a specialized computer to do instant translation from English to Spanish. Then we send it to AudioFetch and people in the auditorium can start the App on their phones and hear everything in Spanish. It's an amazing set up. This is so much cleaner than trying to do Bluetooth with multiple transmitters and receivers. And AudioFetch worked correctly from the first time I plugged it in. Sure wish the rest of the system worked that well!

Mike L

Winterville Church of Christ
I purchased the AudioFetch Signature hardware with 4 channels for my church, Bethel United Pentecostal Church, in Long Island, NY. I am one of the sound engineers at the church of about 1,000 members and was tasked with providing a Spanish translation option for our Spanish speaking members. I purchased this device to provide a live Spanish translation service for members who needed it. The AudioFetch Signature device is actually the second device we tried, previously we had the ListenTech Audio Everywhere server, but due to poor performance, we switched over to AudioFetch, which has worked marvelously since it was installed in early December 2019.

We have someone translating in a quiet room while watching and listening to the live service, and then speaking into a microphone which in turn is sent to the AudioFetch device. We have about 15 people who are accessing the AudioFetch app during our worship services on Sundays, listening to a live Spanish translation.

The AudioFetch system is on a dedicated enterprise grade WiFi access point. What has been really great about the system is there have been no drop outs for any of the users and the latency delay is a fractions of a second, so it works extremely well for us.Overall we are very happy with the system after a trial period leading us to make a purchase of the system.

David

Bethel United Pentecostal Church
Audio quality is really great … it's a beautiful system … it's wonderful, it really is, …the price is right.

Tom B

St. Thomas Church
I have purchased 3 AudioFetch products (2 Home and 1 Express) within the last 6 months. I am impressed and excited with the amazing hearing-assist capability of these systems. The AudioFetch Home and Express are small, self-contained systems that can generate their own WiFi network or can easily connect to an existing secure (encrypted/password protected) network. They work straight out of the box and can even operate with a small USB battery pack providing a highly mobile configuration, up in 15 minutes. One of the Home systems is used daily at my house for personal TV watching/listening. My hearing is significantly impaired (60% loss) and I really can't understand TV programs without it; but with AudioFetch streaming to my Bluetooth hearing aids via my iPhone, the audio is crystal clear. The other two AudioFetch systems are used by our WLDO Hearing Impaired/Deaf Ministry pastor who ministers full time to hearing impaired and deaf people in our area and all across the US. He uses these highly mobile AudioFetch systems in numerous ways while visiting with many churches and congregations in our area. These congregations are sometimes large, but more often small and particularly well suited, I believe, by the AudioFetch (Home and Express) products both for worship and small group study. The AudioFetch Home and Express systems offer tremendous capability for 1-4 or 30-100 people in a highly affordable and easy to use package. The Apps work great and the WiFi networking is simple enough for me to set up; but excellent user Support is always available if needed. Excellent value - highly recommended hearing assist solution.

Galen S

World Lutheran Deaf Outreach (WLDO) Ministry
I never gave much concern for the hearing impaired until I encountered sudden hearing loss. I ended up with a Cochlear Implant and used an FM receiver and neck loop to listen to church services. It was not bad but awkward. I searched for a year and found AudioFetch. I was amazed at the clear sound and convenience when I connected to the audio wireless network with the iPhone. This works as well as the $15,000 to $20,000 loop systems that connect to modern hearing aids. I will spread the word to other hearing impaired and how their life can be improved with AudioFetch and help minimize the social stigma that we hearing impaired people encounter. There are many options and expertise is available to help. I appreciate the lifestyle improvement that AudioFetch has made for me. Thank you

Ronald T

AudioFetch Express Customer
We love it. I don't know why other churches are not using it. Works great for the translation of our sermons to English since the primarily language in the church is Spanish.

Gustavo B.

AWESOME PRODUCT!
Customize the AudioFetch App
Customize the AudioFetch app interface to match your brand, display info via PDFs, place advertisements, and keep customers informed.