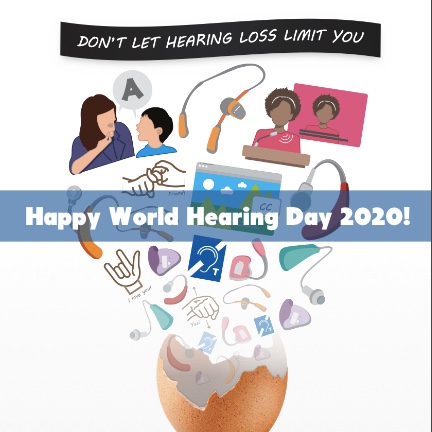 March 3, 2020 is World Hearing Day. World Hearing Day is about raising global awareness for the importance of hearing. This day encourages people to protect their hearing while spreading the word about new solutions for the hearing impaired.
Being able to hear is part of a healthy, happy life. World Hearing Day invites us to reach out to the deaf and hearing impaired members of our community.
Hearing For Life
For many people, hearing is something we take for granted. We may not realize how hearing enriches our daily lives and helps us with everything from work to family life. Often, people are also unaware of the causes of hearing loss and may not be taking the necessary steps to protect their hearing.
Protecting your hearing includes basic lifestyle changes, such as wearing earplugs in noisy environments, limiting your exposure to loud music and noises, and resting your ears after noise exposure. These small steps can go a long way to preserve the lifespan of your ears.
Hearing damage is usually permanent and irreversible. However, if you or someone you love is already experiencing hearing loss or impairment, it's not too late to seek out treatment options and interventions like hearing aids and discreet assistive listening devices.
Hearing Brings Us Together
According to the World Health Organization, it's estimated that 6.1% of the world's population is living with some form of hearing loss. That's 466 million people! Sadly, many of these individuals don't have adequate access to hearing aids or other accessibility tools. This can be isolating and contribute to health problems.
But you can help! Along with educating your friends and family about ways to protect your hearing, you can encourage your local business and community spaces to install assistive listening devices.
Businesses like Club de Golf Mexico, Hummingbird Wine Bar, and teb Interiors Inc. use listening assistive devices from AudioFetch to make their spaces welcoming and accessible to people with hearing issues.
Celebrate with AudioFetch
We actually treat every day like World Hearing Day — but we're still celebrating!
In honor of World Hearing Day, we're offering 25% off* MSRP on all hearing assistive applications for the month of March 2020. To take advantage of this special offer, contact us today and mention "World Hearing Day."
*Offer cannot be combined with other offers or discounts. One discount per customer. Must contact AudioFetch to see if your application is eligible.