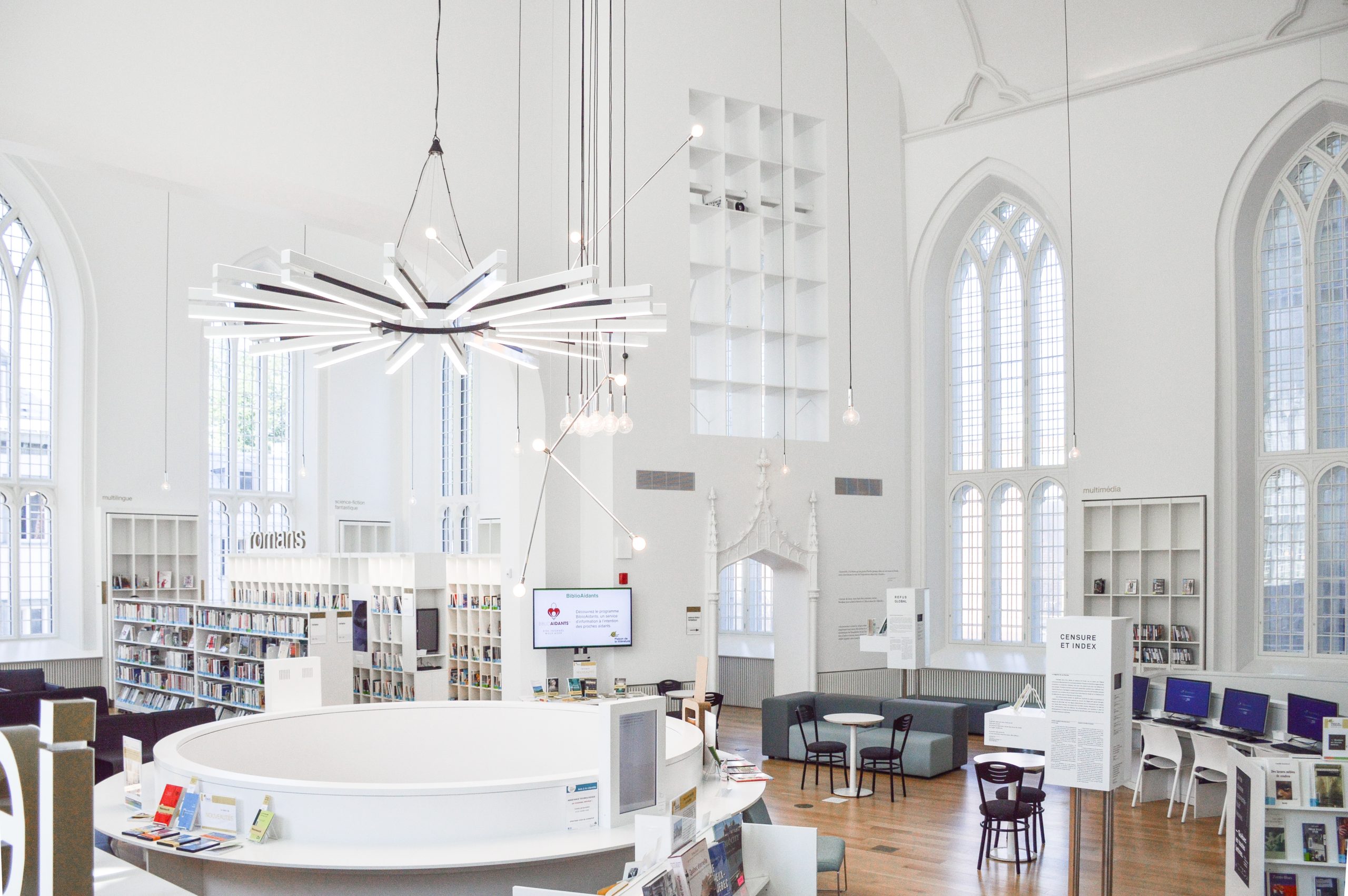 Churches, fitness centers and sports bars already know the benefit of offering AudioFetch to their guests. But they're not the only venues that can take advantage of wireless audio streaming. If your audience needs to hear, or hear better–regardless of who or where they are–AudioFetch is a great addition.
Below are 12 other types of businesses and organizations that use our wifi audio streaming systems:
1. Warehouses/Factory Floors
Giving your factory employees something to listen to while they work has been shown to improve employee morale and increase productivity. But you don't want them getting distracted by allowing personal music selections or giving them internet access. That's where AudioFetch shines–it provides audio entertainment for all employees, while eliminating the ability to surf the web. A win-win for employers and employees alike!
2. Coworking Spaces
Coworking spaces are popping up in large cities and small towns around the world. These shared business communities provide all the comfort and convenience of a traditional office without the major overhead, plus they inspire networking and collaboration amongst the various tenants through simple proximity and planned events. And most coworking spaces go the extra mile to have the most innovative technology and best office perks. AudioFetch addresses both of these benefits–using convenient, advanced technology to bring improve audio streaming for listening throughout the day, or broadcasting special events and announcements.
3. Fitness Trainers
A fitness instructor's voice is their most powerful tool when leading a class. Their words ensure that students are performing the exercises accurately and safely, and help to keep them motivated throughout the class. So it's imperative that students can hear the instructor, regardless of what exercise they're doing and where the class is taking place. FetchExpress is a fitness instructor portable sound system that makes the instructor's most powerful tool–their voice–even stronger.
If you are a fitness instructor or personal trainer, check out our blog "Boost Your Fitness Business with a Portable PA System" to learn more about how AudioFetch can help you get more students and keep them coming back.
4. Tour Guides
Tour guides typically operate in a very noisy environment (i.e., public space or tourist attraction) with lots of distractions or a very quiet environment (i.e., museum or library), where they risk becoming the distraction. In either situation, tour groups can find it difficult to hear their narrative. FetchExpress solves both of these challenges. The small portable wireless audio guide can be easily strapped to a belt or carried in a bag or hand, along for the ride with every step or mile traveled on the tour. People on the tour then use their smartphones to login on the wireless network integrated into the FetchExpress, and use the AudioFetch app to hear the tour guide's voice. Voila! Everyone on the tour can hear and everyone else in the museum stops throwing the stink eye and shushing.
5. Doctor or Dentist Offices
The waiting room at healthcare office sometimes feels as painful as the actual visit with the doctor. By offering entertainment options with local wifi audio streaming, you can make that experience more comfortable for your patients. Then, when their appointment time comes up, they'll be more relaxed and amiable when visiting with your staff.
6. Court Room Jury Selection Wait Rooms
Most people loathe jury duty. Even worse, though, is waiting all day in the selection room but never having your number called. Again, offering entertainment via mounted TVs around the room can make the experience a bit more pleasant for the potential jurors. And, with any luck, the next time they receive a summons in the mail, they will be ever so slightly more enthusiastic about showing up.
7. DMV
Where else do people wait for long periods of time? The dreaded DMV, of course! Offering entertainment choices on multiple TVs can make the experience a little less dreadful. The wait won't feel as long, creating a more pleasant experience for the folks waiting and, subsequently, for the employees they'll eventually work with. Another win-win!
8. Theaters/Concert Halls
Audio is tough in cavernous theaters and concert halls. You want every seat in the house to hear the performance perfectly, but ambient noise, echoes, hearing impairments and numerous other factors make it seem impossible to ensure that perfection. Wireless assistive listening devices for theaters gets you as close as possible to perfect. Each guest, no matter if they're right behind the pit or in the very last row of the top balcony, can listen to the performance at the level they prefer through their smartphone. And no cumbersome, un-hygenic portable receivers to checkout and in.
9. Outdoor Movie Nights
Outdoor movie nights are a great way to bring the community together for a fun, family-friendly event. But the neighbor trying to sleep before a graveyard shift who's kept awake by the massive explosions of The Martian or catchy tunes of Grease won't think they're so fun. Rather than using public speakers, allow viewers to listen to the films' audio through the AudioFetch app, creating a more community-friendly event for the audience and the neighborhood.
10. Marketplaces/Food Halls
Marketplaces and food halls are a hot new trend in the foodservice industry. Inspired by long-standing European markets, they're popping up all over the United States, bringing a convenient, fun and artisanal vibe to dining out and shopping for groceries. Most marketplaces are found in revamped warehouses, and contain a central bar, coffee shop, bakery, butcher and numerous other boutique shops and restaurants. The old warehouses are ideal for space, but not ideal for noise. AudioFetch can allow guests to listen to mounted TVs while they enjoy a drink and dinner, or tune out the crowd din with local music broadcasts while trying to work from the coffee shop.
11. Craft Breweries & Tap Rooms
Craft breweries, and even cider houses and local vintners, use mounted televisions in their tap rooms to provide entertainment and announcements to their guests. With AudioFetch, those guests can listen to the TVs without being distracted by or distracting others. It's the same idea behind the bar entertainment systems that our sports bar and restaurant customers have found so useful.
12. Community Centers
With the numerous classes, workshops, clubs, meetings and events, community centers can find near innumerable uses for local audio streaming. Whenever guests need to hear better during a townhall meeting or quilting class, the AudioFetch system and portable FetchExpress make it easier and more convenient.
With real-time audio streaming, multiple input types, up to 64 channels, hassle free installation, the option for integrated WiFi, and go-anywhere portability, our audio streaming solutions can be used by just about any business or organization.
Don't see your business listed here? Not to worry! Contact us today to learn how we can help you create a better experience for your guests and grow your business.