STREAM ANY AUDIO TO SMARTPHONES
Turn smartphones and tablets into a personal listening experience
Introducing... AudioFetch Home!
Next-gen wireless audio streaming solution to create a more peaceful and enjoyable home experience.
WIRELESS TOUR GUIDE AUDIO SYSTEMS
Help guests to hear better without distractions or distracting others!
BYOD TO HEAR BETTER
Allow students to "bring your own device" for assistive listening and translation services.
HELP YOUR CONGREGATION HEAR THE GOOD WORD, BETTER
Replace clunky, maintenance-intensive assistive listening devices with personal smartphones and eliminate messy wiring.
NEXT-GENERATION ASSISTIVE LISTENING AND TRANSLATION SOLUTION
No clunky devices, messy wiring or monthly fees required.
Delight your customers by broadcasting audio to the free AudioFetch app.
Real-Time Audio Streaming
Guaranteed low audio latency. Smartphone audio syncs to TV video or audio being broadcast.
Customize Your Marketing
Display your logo & custom ads within the app to a captive audience.
API Ready
Have your own app? Integrate AudioFetch into your own app using our API.
Hassle-Free Installation
Plug-n-play installation using your existing Wi-Fi – no custom configuration required.
Multiple Input Types
Accepts 3 types of audio input (analog, optical or digital coax).
From 1 to 512 Audio Inputs
Each audio input has dedicated audio processor for maximum performance and scalability.
SIGNUP FOR UPDATES
Sign up for tips on driving more business with audio streaming solutions, exclusive updates on our products and how to get more from your AudioFetch system.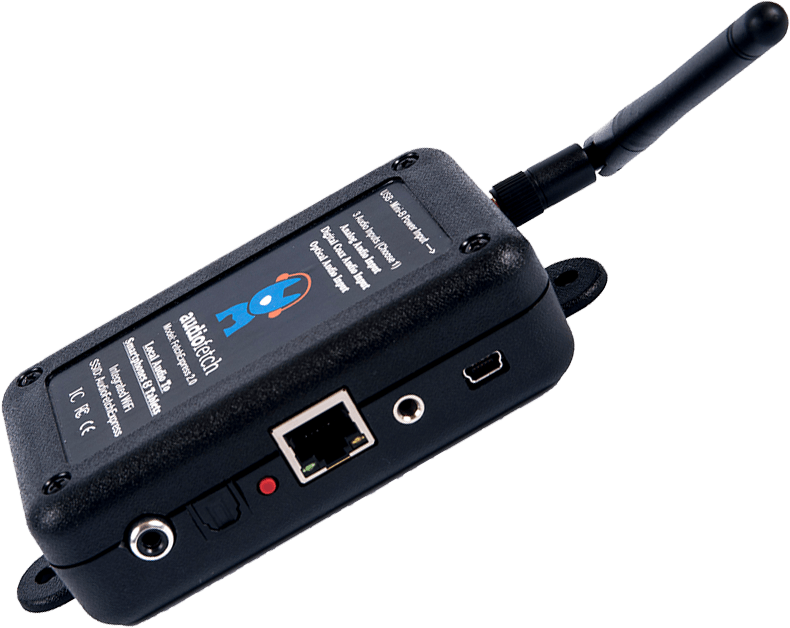 1 input, install up to 8 per area
Wi-Fi built-in (broadcast direct, or connect as wireless client, or connect to ethernet jack)
Powered via USB jack or wall outlet
Cable-free installation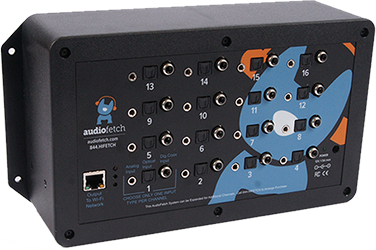 4 – 512 Inputs
Connects to your router
Cabled installation
Rack-mountable
Tours
Whether it's a noisy city walking tour or quiet museum tour, your guests will be able to hear without distractions or distracting others.
Churches
Replace clunky, maintenance-intensive hearing assistive devices and provide translation services to your congregation.
Other Venues
AudioFetch helps schools, museums, airports, fitness centers, sports bars, restaurants, conference centers and other venues broadcast live audio and comply with ADA Standards.
AudioFetch has been a valuable addition to the Pumphouse / RedZone sports bars experience. AudioFetch eliminates guest issues regarding overhead audio by simply referring them to the easy-to-use AudioFetch App."


Ross G, Managing Director

Pumphouse and RedZone Sports Bars
The Champions Health and Fitness staff and members love AudioFetch. It worked flawlessly from the get-go and all we hear is positive feedback from the users.

Greg L. - Owner

Champions Health and Fitness
The verdict on AudioFetch is it has negated the need to further consider other systems we reviewed because they don't even come close. This is very good gear for a good price.

Tom Moon - Sales Engineer

Audio Video Excellence, Inc (AVX)
We were able to get the audio to broadcast over different subnets which means that staff and students who are split over different vlans can connect at the same time. It's really quite something!! The app is plain and straight forward. We will certainly put these into any installs going forward which require assistive listening. I'm very impressed and glad I found AudioFetch!!

Nathan P.

Abertay University, Dundee UK
AudioFetch was easy to install myself. They provided all the cables and the system really is plug-n-play. The customer support even included providing the necessary splitter cables to keep my existing cardiotheater-style system functional while adding AudioFetch.

Joe Wirkus - Owner

Supreme Health & Fitness
Love it! We switched to Audiofetch in the gym I manage and it has worked great! Everyone loves how clear the sound comes through. We had one issue with one members phone so I emailed them and within about 10 minutes I had a response with how to fix it. Great product, great application, and great customer service. What more could you ask for?

Jamie Rellinger

Anytime Fitness
We've installed our AudioFetch system and we are very pleased with its performance. The transmission/reception is crystal clear.

Terri Kosko-Tully

Jewish Community Center
I just want to say your product is amazing! We just finished the install and we could not be happier, and I wish every manufacturer was like you guys! AMAZING PRODUCT!!!!

Brent M.

President & Founder, Hooked Up Installs
AudioFetch has been really great for bringing in the sports crowd. Families especially like coming in for the AudioFetch experience since those that want to hear the game can now enjoy it.

Justin Jeffries - Manager

Sexy Pizza
I recently purchased AudioFetch Express to add hearing assistance to our Sunday worship services. I was excited about all the features and the ability to use the same device for inside the church and for tours. I am very impressed with how easy AudioFetch was to set up and use. My hard-of-hearing parents felt it worked well also. Integrating AudioFetch into our church audio system was a breeze. We were able to get multiple users up and running quickly. For any questions we had, we received excellent support. Highly recommended!!

David Frobish

Our Saviour's United Methodist Church
In short, I love it. The hook up is simple and I'm very impressed with the fact there is zero audio delay.

Jordan Varrichio

YMCA, Canada
Easy to download and connect to. The quality of sound was very good. There were no problems with dropouts or dips in the quality of the output.

AudioFetch App User

University Installation
I'm thoroughly satisfied with AudioFetch. I recommend it to my colleagues for their clubs.

Joe Yeomans - Owner

Anytime Fitness
AudioFetch has been great. Totally maintenance free. Members love listening through-out the center.

Courtney Whittaker

Vista Ridge Community Center Manager
We considered other systems but were blown away by the ease-of-installation-and-use with AudioFetch. My members love it. I love no monthly fees, that it's easy to use the ad portal, and the excellent customer support.

Carl Fish - Owner

Snap Fitness
My senior-age members love the ease-of-use. The AudioFetch App functions well and is easy to use across all the devices we've encountered. I really like that the product is easy to install and maintenance-free. The one time I had a question, the support was very good.

Daniel Mason - Owner

Welcyon
AudioFetch was one of the best investments I made for my new facility. Everything was good from the get-go; including the easy installation! My members and employees love it! They listen through the easily downloaded app- right to their personal phones! One-time purchase, which, includes everything you need. And no on-going subscription or monthly fees. No wires hanging from the ceiling; sleek and clean. And the sales and customer service team didn't forget about me after my purchase: they are there EVERY time we call- FOR ANYTHING. I'll be upgrading my other facility to AudioFetch!

Terry Alldredge - Owner

Anytime Fitness Denver & Anytime Fitness Highlands
Patrons love being able to hear THEIR game regardless of what might be playing on the overhead speakers. We like promoting other night's events within the AudioFetch app as well.

Randy - Manager

Sharky's Bar n Grille
We are taking audio from our adult class and our worship service and sending it to a specialized computer to do instant translation from English to Spanish. Then we send it to AudioFetch and people in the auditorium can start the App on their phones and hear everything in Spanish. It's an amazing set up. This is so much cleaner than trying to do Bluetooth with multiple transmitters and receivers. And AudioFetch worked correctly from the first time I plugged it in. Sure wish the rest of the system worked that well!

Mike L.

Winterville Church of Christ
I purchased the AudioFetch Signature hardware with 4 channels for my church, Bethel United Pentecostal Church, in Long Island, NY. I am one of the sound engineers at the church of about 1,000 members and was tasked with providing a Spanish translation option for our Spanish speaking members. I purchased this device to provide a live Spanish translation service for members who needed it. The AudioFetch Signature device is actually the second device we tried, previously we had the ListenTech Audio Everywhere server, but due to poor performance, we switched over to AudioFetch, which has worked marvelously since it was installed in early December 2019.

We have someone translating in a quiet room while watching and listening to the live service, and then speaking into a microphone which in turn is sent to the AudioFetch device. We have about 15 people who are accessing the AudioFetch app during our worship services on Sundays, listening to a live Spanish translation.

The AudioFetch system is on a dedicated enterprise grade WiFi access point. What has been really great about the system is there have been no drop outs for any of the users and the latency delay is a fractions of a second, so it works extremely well for us.Overall we are very happy with the system after a trial period leading us to make a purchase of the system.

David

Bethel United Pentecostal Church
Wow our partners through service, speed, and education.
Take time to understand the problem.
Be nimble, collaborative, and open to customization.
Make things hassle-free for customers.
Be transparent, even if it hurts.