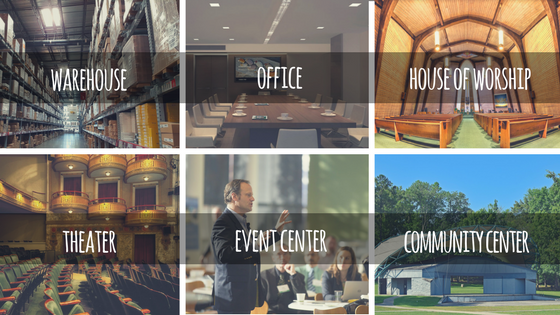 Has your company ever had an all-hands meeting where half the team had to listen from the hallway because it was too crowded in the boardroom? How about the last time you were in a packed bar trying to watch a game with 60 TVs playing other games? Have you ever had to sit in the back of church and miss the whole sermon? These are all hearing and communication challenges that a business PA system could easily solve. Installing a PA system can help businesses to regulate exactly the audio they want to provide to their staff or customers, simply using wifi to stream to their smartphones or tablets.
What type of businesses can benefit from streaming audio over wifi?
Businesses of all types and sizes can take advantage of wireless audio streaming. If you have employees, customers, audiences and/or guests that need to hear better or listen to music while working, a business PA system is a great addition. Here are just a few of the business types that can benefit:
Warehouses – Allow factory workers to listen to preselected audio options, broadcast important announcements and eliminate other distractions.
Office – Allow staff to listen to and curate audio options, and reduce distractions throughout the entire building.
Houses of Worship – Allow members to hear the sermon, regardless of where they are in the building, assist hearing-impaired members and provide translation services.
Theaters – Give guests an extra boost to hear audio regardless of where they are in the theater, as well as provide translation and hearing assistive services.
Event Centers – Allow guests to better hear audio for various types of events–lecture, speaker panel, musician, comedian, film, etc.–and provide translation services.
Community Centers – Allow guests to better hear audio for various community events, including speakers, educational/instructional classes, indoor or outdoor movie screenings, etc., and provide translation services.
How do businesses benefit from streaming audio over wifi?
Wireless audio streaming can provide numerous benefits for businesses to help increase customer and employee satisfaction, improve communication and enhance productivity.
Efficient Communication
You can create a single channel that broadcasts relevant messages, such as current promotions or specials, new menu items, upcoming events happening at your business, holiday hours and closures, etc. You can also use the app to alert guests of these messages by including links or PDFs in the drop down menu.  
Increase Revenue
If you are using a personal PA system at your venue, such as a house of worship or a concert hall, you can market the space as having hearing assistive technology that can amplify the sound for any patron in need. This can be a great marketing asset to broaden awareness of your venue and increase ticket sales or donations.
Encourage Diversity
Providing services and technology for diverse audiences can benefit both employees and customers. For example, your business could be able to provide real-time translation services to ensure that everyone is hearing the same message at the same time in their native language. Churches and community centers are great candidates for providing real-time translation services, but any public venue is likely to have an audience that would find this useful.  
Another great example is it can help the hearing impaired. One in eight people in the United States aged 12 years or older has hearing loss in both ears, according to the National Institute on Deafness and Other Communication Disorders (NIDCD). Considering that that's 13% of the U.S. population, it's highly likely that your staff and guests have some type of hearing loss or impairment, and would benefit from hearing assistive devices. A PA system that uses wifi to stream local audio to smartphones provides these services, without requiring your staff or guests to own new devices or requiring your business to install a comprehensive sound system.
The ability to help your employees and consumers hear better, without distractions or distracting others, can enhance the environment in your business, increase productivity, communication, and improve your business's bottom line. If you're ready to help your employees and guests hear better, contact us to get started with your wireless audio streaming and business PA system.
Save