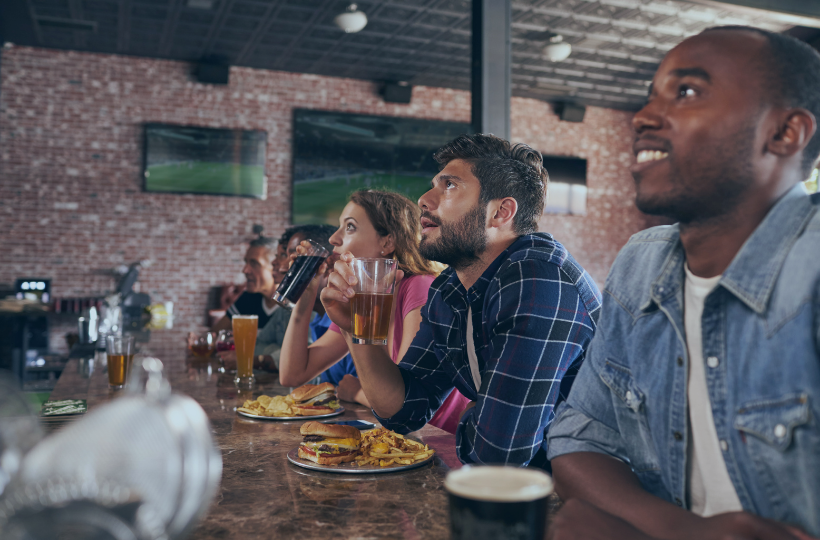 The 2020-2021 Triple Whammy–COVID restrictions, supply chain issues, and labor shortages–have hit restaurants and sports bars harder than most industries. And while a recovery is happening slowly (total spending at quick- and full-service restaurants is up 7% compared to 2019, according to Rewards Network) these hospitality businesses are still challenged to drive sales and adhere to any lingering restrictions, both regulated by local governments and strongly encouraged by local customers. 
To address these restrictions, create unique experiences that attract new customers, and help stand out from other local businesses, sports bars and restaurants are leveraging AudioFetch's next-generation audio over WiFi technology. 
AudioFetch provides an innovative and safe way for customers to listen to muted TVs in the bar. The sports bar sound system allows bar owners to broadcast audio from any and all muted TVs to their customers' smartphones. Customers can then listen through the free AudioFetch app from anywhere in the bar or restaurant, on the patio, in the parking lot, or even the restroom (hey, some folks don't want to miss a second of the game!).
Meeting regulations and creating a safer environment
Staying up-to-date on the constantly changing rules and regulations has certainly been a challenge. They can flip-flop seemingly overnight and restaurants have had to remain agile to ensure they adhere. Not to mention the wavering fears and comfort levels of customers, which can swing widely by the week and result in disruptions and lost revenue as businesses try to adapt.
AudioFetch has evolved with sports bars as they moved from outdoor-only seating and parking lot "tailgate parties" last spring and summer, to half capacity with at least six feet of space between tables over the winter, to full capacity with no-standing-at-the-bar rules over the past few months. The audio streaming technology allows customers to maintain the proper distance between people and tables without needing to blast the TV volume. 
So no matter what the current regulations are, even when they finally get to that "normal" we all keep dreaming about, AudioFetch supports the needs of both the business and its customers.
Airing multiple games for diverse audiences
It's rare for a sports bar to air the same game on all of their screens. Oftentimes it's a few different games all taking place at the same time, and for the larger establishments, it might even be several different sports or events throughout the building. To appeal to the widest audience and create a welcoming environment for everyone, even the non-sports fans, all of the TVs must be muted.
Some sports bars provide tabletop speakers so separate tables can tune in to a single TV. This solution is okay when your building has the right acoustics and your customers are on the friendlier, more considerate side. Yet, even in these situations, it can become very loud with competing audio on a table-by-table basis.
AudioFetch provides a more accommodating solution. Each individual sports fan selects the game/TV they want to hear and listens through their own smartphone and headphones. So even if a single table is divided on which game/TV to watch, they have options to make the experience their own or flip around to different channels as desired.
Note: AudioFetch can also be used with tabletop speakers if that's the preferred method for the business. Simply connect a single phone to the speaker via Bluetooth, use an attachable sound amplifier, or even place the phone in a glass or bowl to increase the volume for the entire table.
Two innovative sports bars get in on the audio streaming action 

The Canadian Brewhouse is piloting the installation of AudioFetch at their Edmonton location to allow customers to hear the various games and live broadcasts. The Canadian Brewhouse has 40 locations across Alberta, British Columbia, Manitoba, Ontario, Saskatchewan, opening four new locations in 2021. 
As the Consumer Choice for Best Sports Bar and Best Pub the last five consecutive years, The Canadian Brewhouse prides itself on creating an exciting customer experience, and we know that AudioFetch will be another element that contributes to their high-quality environment and stellar customer satisfaction. We look forward to working with The CBH to bring game day entertainment to all of their locations and customers.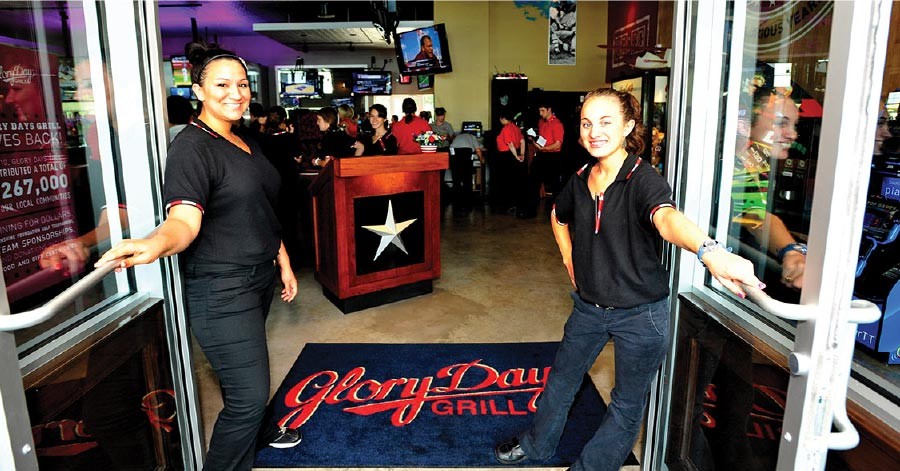 Glory Days Grill, a sports-themed family-friendly American grill and bar, is also launching AudioFetch at a single location, with plans to roll out to more locations in the future. Glory Days Grill also has 40 locations spread throughout Maryland, West Virginia, Virginia, North Carolina, Georgia, and Florida.
Since their first opening in 1996, Glory Days' goal was to be a neighborhood gathering place that brought friends and family together for award-winning food and entertainment that appeals to all ages. With hundreds of local and national "Best" awards and recognitions and the drive to bring new features and services like AudioFetch to their customers, it's clear to see they've not only achieved this goal but plan to exceed it tenfold! 
AudioFetch is becoming an integral part of sports bars' COVID recovery plan. If you'd like to learn more about the wireless audio streaming solution and how it can benefit your hospitality business, connect with us today. Give us a call at 1-844-443-3824, drop us a line, or schedule an appointment.