Improve the travel experience by enabling guests to hear audio from TVs, digital signage or live speakers on their own personal mobile devices. No more keeping track of listening devices, no more messy wiring, and no more monthly fees for audio streaming services. AudioFetch is the perfect solution for all types of travel and tourism businesses.
Why AudioFetch for Travel & Tourism?
Whether you're a tour company, airport, hotel, railroad, museum or other travel and tourism company, AudioFetch can enhance your guests' experience and drive additional revenue.
We offer several solutions to meet the needs of travel and tourism businesses. AudioFetch Signature is our most comprehensive and flexible solution, allowing for up to 512 audio sources. It's great for airports, hotels and other venues with numerous TVs and digital displays that each have their own separate audio. AudioFetch Lite provides fast, efficient audio processing for up to 4 inputs. It's meant for those that want the speed and sound of Signature, but in a smaller package size.. FetchExpress is a portable PA system with built-in WiFi, which broadcasts a speaker's voice or other audio up to 200 feet in any direction. It's ideal for on-the-go tour guides or other applications with a single audio source.
Not sure which one is right for you? No problem! We'll help you find the best product for your business. Contact us today to get started.
Real-Time Audio Streaming
Guaranteed low audio latency. Smartphone audio syncs to TV video or audio being broadcast.
Customize Your Marketing
Display your logo & custom ads within the app to a captive audience.
API Ready
Have your own app? Integrate AudioFetch into your own app using our API.
Hassle-Free Installation
Plug-n-play installation using your existing Wi-Fi – no custom configuration required.
Multiple Input Types
Accepts 3 types of audio input (analog, optical or digital coax).
From 1 to 512 Audio Inputs
AudioFetch is efficient, flexible, and provides maximum performance across all applications.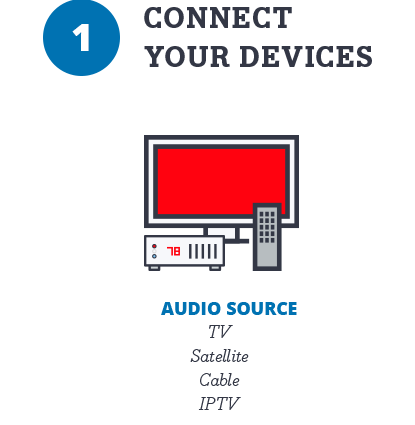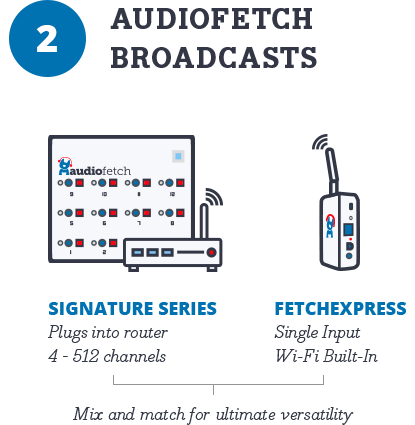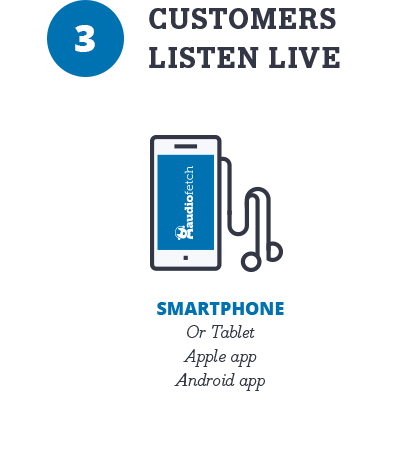 Featured Products for Travel & Tourism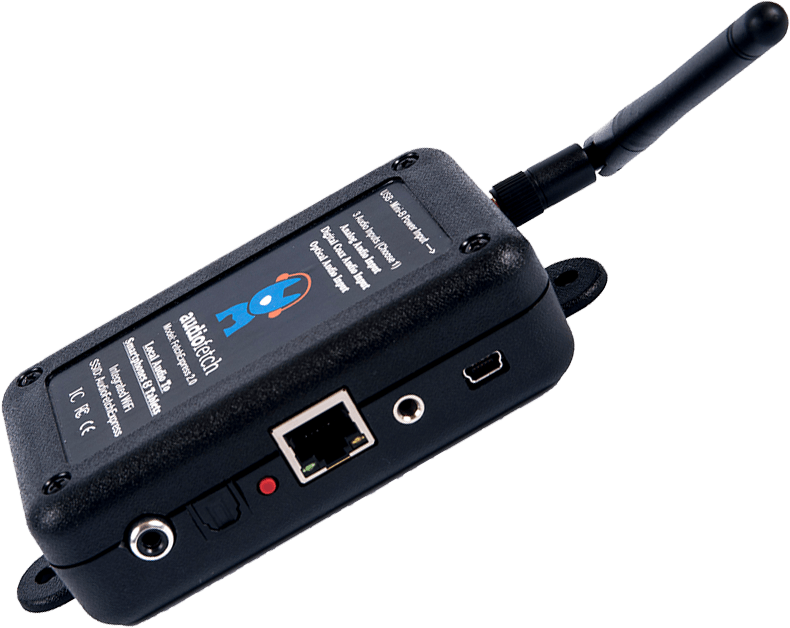 Single input, use up to eight in one area
Wi-Fi built-in
Powered via USB jack or wall outlet
Cable-free installation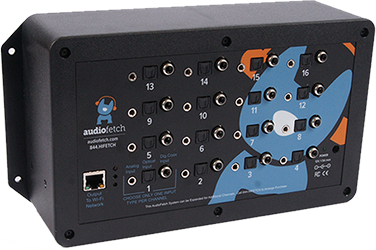 1 – 512 Inputs
Connects to your router
Cabled installation
Rack-mountable
Customize the AudioFetch App
Customize the AudioFetch app interface to match your brand, display info via PDFs, place advertisements, and keep customers informed.