So, you've made the wise decision to install AudioFetch in your business? Good for you! Sit back and bask in the gratitude of your patrons and enjoy the benefits it brings your business for a minute.
Want to do more to increase that gratitude and those benefits? Promoting AudioFetch at your establishment can increase usage and guest satisfaction. Consider these 9 ways to maximize AudioFetch promotion at your business.
1. Give Your Staff a Heads Up
Your employees are the face of your business, and the first place customers go when they have questions. Make sure every member of your staff knows what the AudioFetch audio streaming system is and how to reference download instructions. Encourage them to download the app on their own devices, or have a device available for them to play with it, ensuring they have a basic comfort level that AudioFetch works well and is easy to use.
2. Post Signage
Your installation package comes with signage to go on your TVs, table tents and cardio clings for fitness establishments to alert customers that you offer local audio streaming to their smartphones, and brief instructions on how to use it.
Daddy Rabbits Pub placed the free table tents throughout their establishment.
Depending on your type of establishment, you may also consider other options for promoting it on premises:
Reception/Front Desk – Do guests need to check in before entering your venue? Alert them to your audio streaming offer right away. This will allow staff to answer any questions immediately, ensuring they download AudioFetch on their first visit.
POP Signage – For QSRs or other venues where guests pay before sitting down, posts signage at the register. Again, this alerts them immediately and allows staff to address questions in an efficient manner.
Signage on Equipment – fitness studios can add signage to each treadmill, elliptical, stationary bike, etc.
Posters – Hang posters around your venue and in bathrooms (you can't find a more captive audience!).
Menus – Sports bars and restaurants can add a call out directly on menus.
Marquee/Outdoor Sandwich Boards – Draw customers into your venue with outdoor signage on a marquee or sandwich board. Have some fun with the message to really grab their attention!
Programs – For churches, lecture halls and other venues that provide programs for events, add a simple note about the availability of local audio streaming for assistive listening.
3. Update Your Website
Do you have a page on your site that lists amenities or other special offers at your business? Add a note about AudioFetch here.
4. Update Your App
If your business has it's own app, add a link to download the AudioFetch app directly from within your app. Want to take the integration further? We're working with select businesses to integrate our audio directly into your app. Contact us to see if you're eligible for this exclusive option.
5. Blog About It
Add some more info about how to download and use AudioFetch in a blog post. Include a few short quotes from existing customers showcasing the benefits it provides. Customers trust reviews from others, so these testimonials can be very powerful in encouraging new customers to stop by your venue or event, or join your gym.
6. Share It On Social
Social media is an effective and efficient way to spread the word about your business and the amenities your offer. Announce that your offer local audio streaming on Facebook, Twitter, Instagram and/or other social media channels you have. When there's a big event happening (e.g., Super Bowl or March Madness at sports bars), use social media to let customers know about any specials during games and their ability to use AudioFetch. And link to the blog post to encourage users to visit your site to learn more.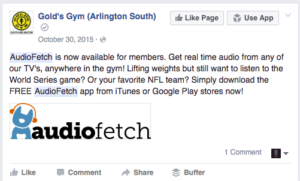 The Arlington South Gold's Gym alerts their customers to availability of AudioFetch at their gym.
7. Send Out an Email
Email is one of the most effective methods for engaging existing customers online. Include an announcement about your AudioFetch offering immediately after installation, and make note of it frequently to remind customers to come in and use it.
8. Online Directories
Online directories like Google Maps, Yelp, TripAdvisor and Yellowpages often show up first when customers search for businesses online. Adding your AudioFetch offering to these listings can make your business stand out from competitors, providing a differentiator that can drive new foot traffic to your business or event.
9. Make a Live Announcement
Most live events like presentations or lectures start off with some housekeeping announcements. "Silence your phones," "Hold questions until the end," "Use this hashtag during the event," and "Download AudioFetch to help you hear better during the presentation." A brief announcement with an accompanying slide, where appropriate, can increase usage and improve your guests' experiences.
Your guest won't use your AudioFetch system if they don't know about it. Make them aware by promoting in and around your venue, and online.
Do you have a creative way that you've promoted AudioFetch at your business? We'd love to hear about it! Share your story on Facebook.
Save