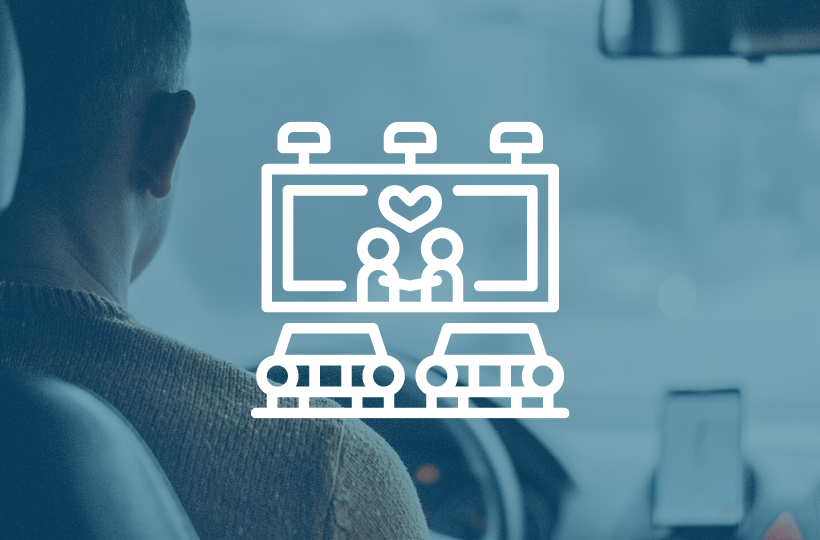 Did you know that drive-in theaters have been around for more than 100 years? The first drive-ins are thought to have started as early as the 1910s; however, the first official patented drive-in theater was established by Richard Hollingshead in New Jersey on June 6th,1933. 
After testing the concept in his driveway from small crowds, Hollingshead's drive-in theater location allowed for 400 cars and advertised with the slogan: "The whole family is welcome, regardless of how noisy the children are." (Thankfully, we're all a bit more polite these days!)
For the most part, the core elements of the drive-in have remained intact all these years–movies are projected to a large outdoor screen from a projection booth, allowing customers to view the film from their vehicles and enjoy snacks from a concession stand. And while the central aspects and charm of drive-ins haven't changed, the audio-visual technology that makes it possible has.
Modern-Day Drive-In Theaters
Today, drive-in theaters are often more boutique in nature, typically only permitting 30 to 50 vehicles. Many are forgoing the "drive-in" part and instead of showing films in parks, fields, farms, backyards, warehouses, alleyways–anywhere viewers can pull up a chair or blanket and relax in front of the screen. 
Food trucks have replaced the concession stands and films are often selected based on their nostalgia or cult status. Because you often don't actually drive to these theaters, the name is sometimes changed to "open-air cinema" or "outdoor theaters."
New Technology for the New Drive-Ins
The audio-visual technology used to power drive-in theaters is the biggest change to the format. As the size of drive-in theaters has shrunk over the years, so has the A/V equipment required.
Projectors are now smaller and more portable. This means that drive-ins don't need to rely on a single, powerful projector. Instead, they can use any number of affordable and readily-available projectors that easily hook up to computers or DVD players.
The movie screen is also smaller and more portable. Many companies are manufacturing inflatable screens that can be raised and lowered in minutes to create an open-air cinema in any location.
And last but not least, audio equipment is also smaller, more portable, and more affordable. The traditional drive-in speakers–those wired devices that are tethered to short poles throughout the parking area are no longer the only option. Now, drive-ins can use wireless audio streaming devices like our AudioFetch Signature or AudioFetch Express to broadcast sound to viewers' smartphones. 
Leading the Resurgence of Modern Drive-Ins
One drive-in theater ahead of the curve is Blue Starlite Mini Urban Drive-In in Austin, Texas. Blue Starlite was the first mini urban drive-in theater in the world, and for the past 11 years has been leading the drive-in resurgence that is sweeping the nation and the world, especially the past two years. 
Today, Blue Starlite operates in three locations–the original in Austin, Texas, Round Rock, Texas, and Minturn, Colorado. Their unique take on the drive-in theater is that only 15-40 cars are permitted at any showing, giving viewers an intimate, personal, and one-of-a-kind experience. True to the essence of a drive-in theater, guests have the option to use the traditional drive-in speakers or use our AudioFetch audio over WiFi technology.
So if you ever find yourself in Austin, Round Rock, or Minturn, be sure to spend an evening with them for a turn experience on the modern drive-in. We guarantee you won't regret it!
We are extremely proud to support Blue Starlite Drive-In and all the other drive-ins, open-air cinemas, outdoor theaters (or whatever you call them!) keeping this family-friendly entertainment experience alive after 110+ years! 
If you have an established drive-in theater or are looking to host an open-air cinema in any location, reach out! We'd love to provide a free consultation and quote to help your business grow and evolve. Contact us by dropping us a line, calling 844-HI-FETCH, or scheduling an appointment.