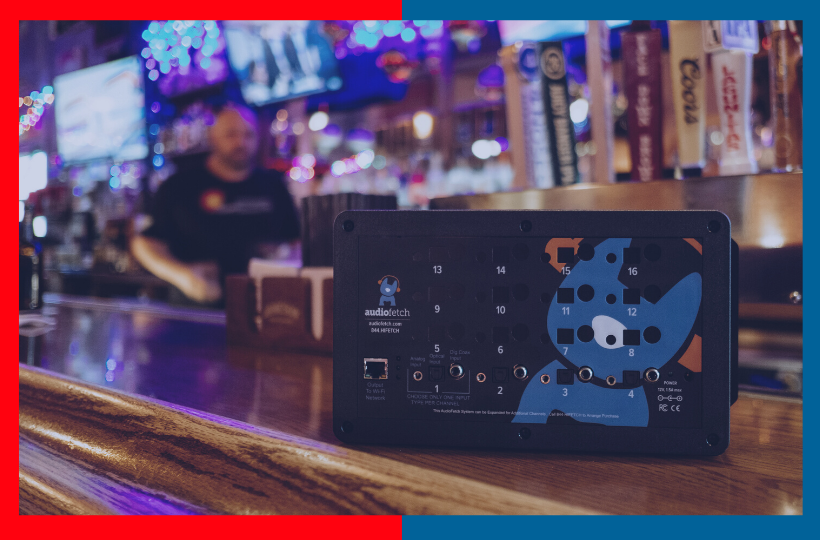 Is Tunity hitting a sour note with your customers?
We often hear from sports bars, gyms, universities, casinos and other businesses that are encouraging their customers to use Tunity's app to hear muted TVs, but are dissatisfied with the option. As social distancing mandates continue and accessibility becomes a higher priority, we're working with more and more businesses that need to upgrade their audio over WiFi streaming offering to AudioFetch.
Below are some of the reasons customers turn to AudioFetch when looking for a Tunity app alternative:
Works with Streaming Services
AudioFetch allows listeners to hear any program that's playing on any TV. That could be a program streaming on Netflix, Hulu, Apple+, Amazon Prime Video, HBOMax, or any other streaming service. Tunity only allows listeners to hear audio from media broadcasts on major national networks only. Most local news and local programming don't work either.
Works with DVDs and Blue-Rays
When we mentioned any program playing on any TV, that also includes DVDs, Blue-Ray discs, and downloaded digital copies of movies. Heck, it even includes VHS tapes and laserdiscs, if you've still got the working players laying around!
No Annoying Commercials
One of the biggest complaints we hear is that the audio ads are incessant, and the only way to get around them is to pay for a premium service. According to one recent review:
"I timed it on Saturday during the gator game and it cut off the game sound every 10 mins to watch some stupid irrelevant commercial. Why every 10 minutes? And why not make it during a tv timeout commercial. I was literally cut off 19 times during the game to the annoying 'bring the app upfront to watch a commercial.' Way too many commercials for sporting events."
This is a complaint from a listener, but business owners also lament this feature because they're essentially letting other businesses advertise directly to their customers! Without getting a dime in return! And what happens if the ad is for a competing business? Now that's a conflict of interest if I've ever heard one!
AudioFetch does not include a single ad in the audio stream, and listeners will never have to pay a cent to use the app. The only "ads" that are allowed in the AudioFetch app are placed there by the business owner, and our customers typically use this space to advertise their own specials and events.
Low Latency and Near Perfect Auto Syncing
Perhaps tied for the biggest complaint is the audio delay/syncing issue. Customers complain that the audio often gets out of alignment with the TV programming. The company has provided a solution for this with "Fine Tune Audio Sync" buttons within the app, which allow customers to fast forward or rewind to sync the audio themselves. Yet, the frequent ads cause the audio to get out of whack, which means customers are forced to fine-tune every ten minutes or so. Not fun when you're trying to enjoy a game at the bar, and not safe if you're running on a treadmill at the gym!
AudioFetch has a distributed processing platform that scales with the number of channels to ensure the lowest latency possible. The techniques employed in the development of the mobile AudioFetch App also ensure minimal latency.
Doesn't Drain Battery Life
The Tunity app uses GPS on your device to scan for channels in the area and local time. This frequent GPS usage can result in rapid battery drain if channels are scanned too often. Another battery-draining feature is the aforementioned commercials. Some listeners have complained that their phones die before the end of games because of this drain.
AudioFetch works by connecting to the local WiFi network once, and then you manually select which TV/channel to listen to. No battery-sucking features required.
Attentive, Expert Support
We stand behind the AudioFetch products and service and are happy to help you through any technical or logistical challenges you may encounter. AudioFetch won't connect to WiFi? We help with that! Less tech-savvy customers can't figure out how to download the app? We got you covered. No issue is too big or too small.
Should you encounter any issues and need support, you will engage with a person well-versed in all aspects of AudioFetch by calling us at 1-844-443-3824, scheduling an appointment or contacting us. You can also visit our Frequently Asked Questions section to find out more about common questions about our products and services.
In the immortal words of Mr. Kurt Vonnegut: "In this world, you get what you pay for." (He used it in a slightly different context, but knowing his futuristic and sci-fi slant, we think he'd approve of the connection to next-gen tech that would have been mind-blowing in his heyday!). And when you don't pay a cent for something, you can typically expect that same low-price-point level of service.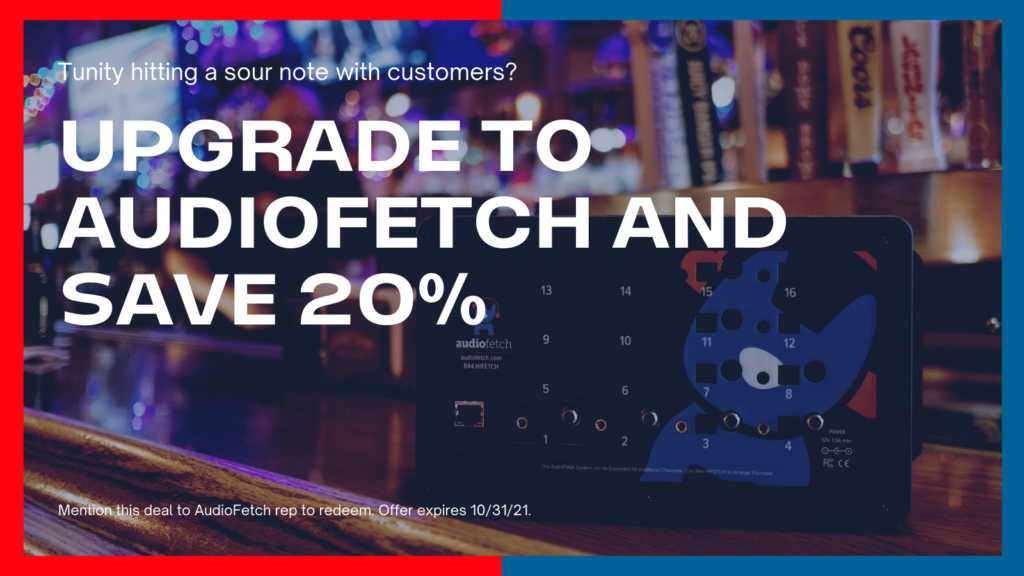 Ready to upgrade to AudioFetch today? We're offering businesses 20% off their order when they switch from Tunity. So don't wait another minute to provide a better experience for your customers–order your AudioFetch today by calling 844-HI-FETCH or dropping us a line here.
Are you a listener that can no longer use Tunity at your local sports bar, fitness center or another facility? Let us know the name of the facility and we'll work with them to bring AudioFetch to you!