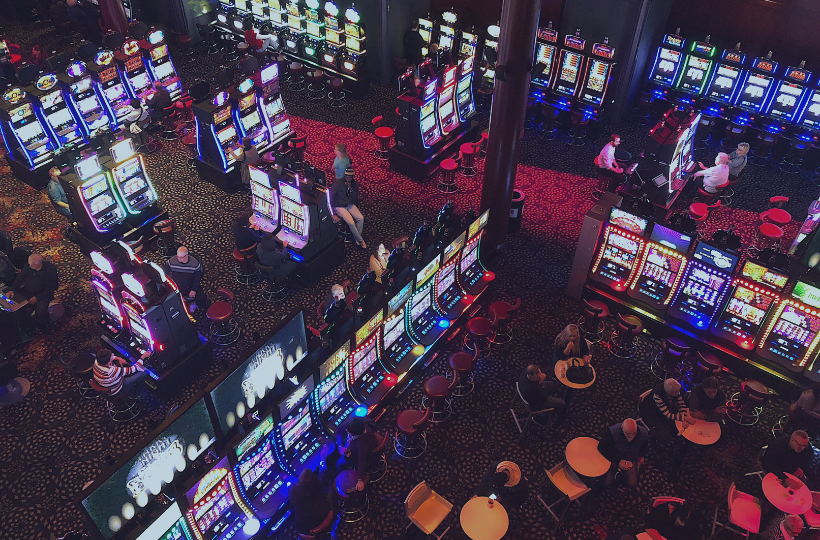 When people think about the typical uses for audio over WiFi streaming, they usually come up with businesses that have numerous muted TVs mounted in the building, like fitness centers and sports bars, or venues that need to provide a convenient assistive listening solution, such as houses of worship and theaters.
What they don't often think about are the more niche applications–a near-never-ending list of businesses and organizations that can benefit from using our wireless audio streaming technology. This list includes auctions, hospital waiting rooms, prisons, warehouses and factories, stadiums, airports, museums, multi-piece bands, and real estate companies to name just a few.
It also includes casinos and gaming resorts, a growing application for our business that we'd like to highlight today.
Audio Over WiFi Streaming in Casinos
AudioFetch is a simple, convenient, affordable and flexible casino audio streaming system. It enables casinos to broadcast live, local audio to customers' smartphones or tablets, ensuring that they can hear what they want, when they want, and wherever they are in the building.
It's simple. Installation is a breeze. AudioFetch integrates with your existing WiFi for a headache-free installation process that does not require any custom configuration, messy wiring, or remodeling.
It's convenient. Customers don't need to borrow (and you don't need to clean and maintain!) any additional devices or dedicated headsets. They listen with their smartphones, tablets, or other personal mobiles devices through the AudioFetch app.
It's affordable. AudioFetch does not charge any recurring fees whatsoever. Purchase the equipment and it's yours to use as much as you like across as many audio sources as you like (well, up to 512, but that's more than any of our customers have ever needed!). Plus, there's no charge to customers to download and listen with the AudioFetch app.
It's flexible. The audio sources can be nearly anything, from muted TV screens to digital displays, and can provide real-time streaming of sportsbook announcements, fantasy bets, local game feeds, jackpot celebrations, floor-wide messages or anything else you would like to broadcast.
Additionally, the AudioFetch app can be customized to match your casino's brand or integrated into your own app to promote app adoption and keep the guests playing longer and coming back time and again. The app also includes free ad space to promote upcoming jackpots and contests, announce new games, advertise food and drink specials, gather opt-in emails, etc.
Customers Using AudioFetch for Casino Sound Systems
Over the years, we have worked with numerous casinos, resorts, and gaming venues around the world to provide unique audio streaming entertainment options and hearing assistive solutions. Following are a few of our casino customers:
Winners INN and Casino, located in Winnemucca, NV, is more than just a casino. It's a 3-star hotel with 122 rooms that offers great eats and entertainment, including more than 150 games/slots and tables. Combine all that with our AudioFetch system, and you have a winning combination 24 hours a day!
Next, we would like to highlight the Akwesasne Mohawk Casino Resort located in Hogansbur, NY.  Nestled amongst the St. Lawrence River and several smaller rivers, the Mohawk thrived for generations among black ash trees and sweetgrass, duck and deer, trout, and bass. You will feel the history in this beautiful location known as "Akwesasne" which translates to "Land where the partridge drums." Today you can enjoy a fun getaway in upstate New York with more than 1,150 slot machines, a wide array of live entertainment, and a luxurious hotel stay with fine dining options.  
The Ballys in Evansville has all the amenities you'd expect from a world-class Casino, and you can even bring your pets for an extra dose of good luck! If you find yourself in Evansville, IN, bring your family, friends, and fur babies, and enjoy the good times paired with our AudioFetch.  
You will feel the Little River Casino Resort signature hospitality the minute you walk in through the doors.  Located in Manistee, MI, Little River Casino and Resort is one of the most exciting entertainment destinations in northwest Michigan. With more than 20 years of experience and 1,100+ slots and video poker machines, as well as dozens of table games, you're bound to find the game that will help you win big. Also, with 292 rooms and an additional 95-space RV Park, it is the ideal traveler's destination.  
Home of horse racing, Halftime Sports Bar and Casino located in Great Falls, MT is your destination for good times and gaming fun. Great eats, drink, and play with the support of live racing in Great Falls–it's not to be missed!
Last but not least, Tropicana Laughlin is located in Laughlin, NV.  Tropicana Laughlin offers a wide variety of entertainment options including shows, casinos, nightlife, restaurants, and more. Combine that with our AudioFetch wireless audio streaming system while you play slots or watch the football game,  and you can't go wrong.  
These are just some of the casinos that we have partnered with and highly recommend.
Get Your Own Casino Audio Streaming System
Are you ready to provide a unique and convenient experience for your casino guests?  Contact us by calling 844-HI-FETCH or scheduling an appointment to discuss your needs and get a free quote and 30-day demo.