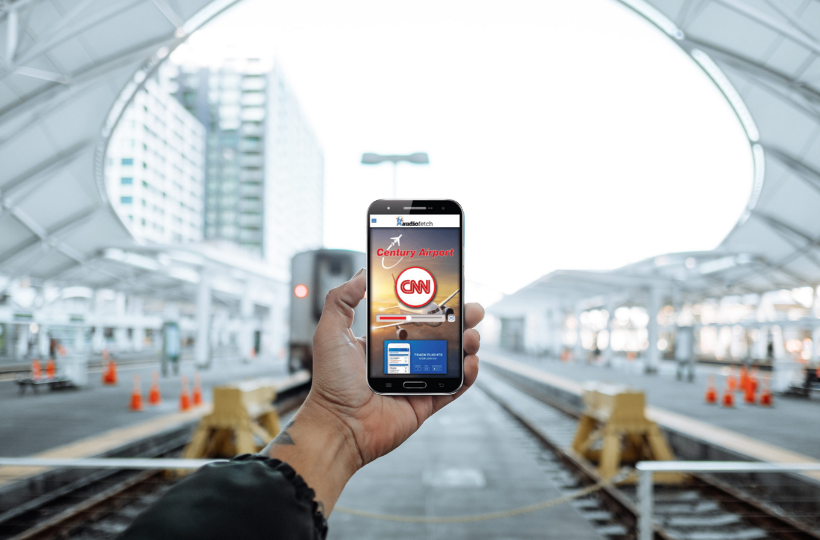 We're continually looking for ways to improve the AudioFetch app and make it more useful for you and your customers. Today, we're excited to announce a number of new customization features, which allow you to brand and personalize the app, making it more useful for your business and your guests.
Following are the seven new customization features available now for your AudioFetch app:
Change the App Title
Specify an App Title, which will appear on the widget that displays when the device is on a lock-screen mode. This will remind your listeners that they're connected and listening with your business, using a name they're familiar with.
Add Your Logo
Replace the AudioFetch logo with your business's logo in two spots: at the very top of the app, and in the center of the app screen. This helps you better connect with your guests by continuing to build brand recognition for your business, and making the app more familiar to your guests.
Add a Custom Background
You can now change the entire background of the app to display a custom image or customer color of your choosing. This feature is useful in further familiarizing guests with your brand and setting the right tone while they are at your facility.
Add Custom Channel Icons
Previously if your facility was using more than one audio source, the channels were simply displayed "Channel 1," "Channel 2," etc. Now you can customize those icons to better represent what is streaming on each audio channel, making it easier for guests to find what they want to listen to.
For example, if you're streaming audio from TVs playing CNN, ESPN and Comedy Central, you can upload the respective logos for each channel.
Add Custom Splash Page
Display a custom banner or video before the app opens. Use this page to reinforce your brand message or promote events, deals or specials that are currently happening at your establishment.
Link to Your Website
To drive traffic to your business or organization's website, you can now add a hyperlink under the hamburger menu dropdown, found in the top left corner of the app.
Link to a Custom PDF Document
Add a hyperlink to a PDF document under the hamburger menu dropdown, found in the top left corner of the app. You can use this PDF link in numerous ways:
Share important business information, such as event programs, fitness class schedules or menus.
Announce specials, discounts, upcoming events or other promotions.
Add a custom message or any other content that you'd like to share.
All of these customizations are available through The Doghouse configuration management portal, which every customer has access to at no additional cost or monthly fees!
If you have any questions about customizing the AudioFetch app or using it to engage with your customers, we're happy to help! Drop us a line, chat with us, or call us at 1-844-443-3824.
*Note: App customizations are only available for AudioFetch Signature Series products and AudioFetch Express.