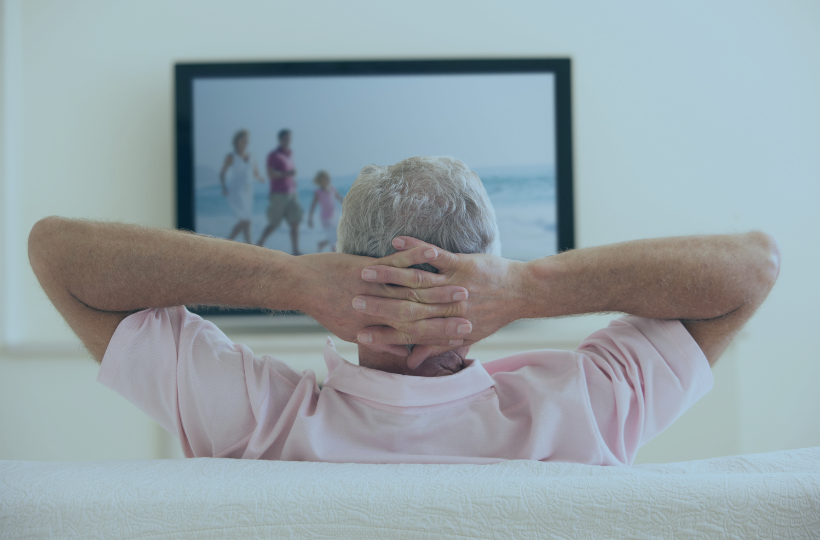 Do you remember TV Ears? If you watched any television during the late 90s, you couldn't avoid seeing a commercial for this product. TV Ears were (and still are, in fact!) a sound amplifier for people with hearing impairments to use in their homes, allowing them to hear the TV better. In the late 90s/early 00s when it first came out, TV Ears was a high-tech and extremely useful product–there was nothing like it on the market, and it helped millions of people enjoy hearing the television without distractions or distracting others.
While TV Ears is still around today, and spawned several lookalike products such as Neosonic and Simolio, they're no longer the pinnacle of hearing assistive technology for home use. These TV amplifier systems still use the same equipment from more than two decades ago–a dedicated headset that awkwardly hangs in front of the neck–and they lack the flexibility and convenience of more modern hearing assistive systems.
AudioFetch Home, our next-generation audio streaming solution, is today's simple, affordable and convenient solution for TV sound amplification. Learn why AudioFetch is a modern TV Ears alternative:
No Clunky, Outdated Devices
Those outdated, uncomfortable headsets and neck loops are a thing of the past. With AudioFetch Home, you use a device that everyone already has with them pretty much every second of every day–their smartphone! Using the free AudioFetch App and personal headphones, users have a more personalized and more convenient experience.
The AudioFetch App software is also continuously updated and maintained in the Apple iTunes and Google Play stores, so you never have to worry about the technology becoming outdated or obsolete. When the AudioFetch Home hardware needs updating, it's done automatically from our cloud-based servers. All internet-connected AudioFetch hardware looks for new updates at every power up and hourly through its lifetime, so you don't have to do a thing to be sure you have the latest and greatest.
More Coverage
TV Ears products and the like only offer single-room listening coverage, typically about 100 feet. And anything that comes in between the device and transmitter–be it walls, furniture, or other obstructions–can cause interference in the audio signal.
AudioFetch Home streams audio over WiFi, so there's nothing that can block the signal and cause interference. The built-in WiFi covers approximately 200 feet, and you can expand that coverage by using AudioFetch Home with your existing wireless network. That means double the coverage of the TV Ears product at the very least!
More Listeners at an Affordable Price
With the old-generation TV sound amplifiers, you need a separate device for every person that needs to hear better. The costs really start to add up if that's more than one person!
With AudioFetch Home, up to four people can listen simultaneously without adding any new hardware or devices. Each listener uses their own personal smartphones and headphones to listen via the free AudioFetch app. At just $229 for AudioFetch Home, that's a screaming deal for four listeners! That would run you at least $450 to purchase four separate TV Ears devices. Even better — there are no monthly or recurring fees with AudioFetch and you get a two year warranty on the product.
A Wider Range of Uses
AudioFetch Home is also suitable for a variety of other home audio applications. Use it as a home gym audio solution to hear the TV while running on the treadmill. Host drive-in movies in your backyard without disturbing the neighbors. Impress your friends and family with a more high-tech man cave setup. The possibilities are nearly endless and only limited by your imagination!
AudioFetch Home is the simple, affordable, flexible and convenient option for amplifying and clarifying TV sound in your home. Order your AudioFetch Home online today. If you have questions or need more information, you can contact us or schedule an appointment at your convenience. We look forward to hearing from you (pun intended!).