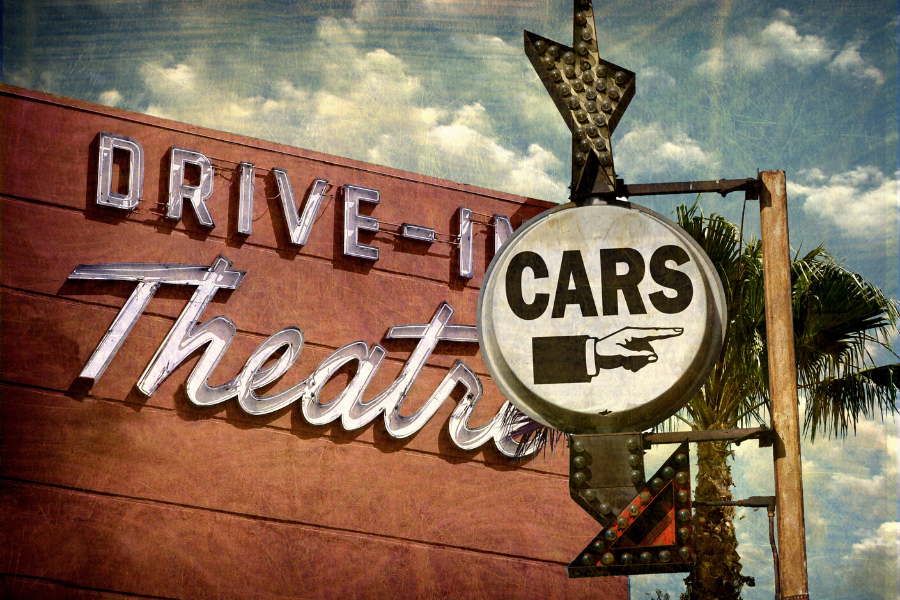 Many of our church customers are hosting parking lot church services, allowing their members to continue coming together while maintaining a safe physical distance. These "drive-in" style services let their members maintain a sense of community and connection, without risking the health of themselves and their families. These socially-distant gatherings have been so popular over the past couple weeks, we wanted to share some ideas for other types of events and businesses that can benefit.
Drive-In Movies at Restaurants
Hosting a drive-in movie night is one way to drive business for restaurants that are only able to serve take-out at this time. The materials needed are minimal–a projector, a big screen (which could just be a white sheet!), and technology to broadcast the audio to cars. Customers get a break from being stuck in their houses all day, and restaurants get a boost in sales of take-out from the event.
Drive-In Graduations for Universities and High Schools
While daily classes have moved to the virtual world, there's one final event on all seniors' minds right now–graduation day. Rather than host this online or skip it altogether, universities and high schools could host the ceremony in the school parking lot. Grads and families can remain in their cars, and tune in to their radio to hear the commencement speech. Walking across the stage won't be possible, of course, but the graduates can all honk when their names are called! Learn more about drive-in graduation ceremonies.
Drive-in Weddings
You've spent months, maybe even years, planning your big day, and the idea of postponing it is not only heartbreaking, it's a logistical nightmare. You can still celebrate your love from a safe distance by hosting a drive-in wedding ceremony. Allow family and friends to listen to the vows while sitting in their cars (throwing birdseed in their cars is optional!). Learn more about drive-in wedding ceremonies.
Parking Lot Services at Funeral Homes
When a loved one passes, it's important for everyone to have the opportunity to come together, celebrating and honoring their life. Those gatherings can still happen, just in a different way. Mourners can meet in the parking lot, seeing other family and friends and listening to the eulogy at a safe distance.
Drive-In Business Presentations
To maintain a semblance of community and connection for businesses forced to work from home, drive-in presentations may be a solution. A single speaker can present using a microphone, and employees can listen in via their smartphones or radio in their cars.
Drive-In Bingo at Retirement Communities
Those living in close-knit retirement communities are accustomed to attending potlucks, bingo nights, dances and numerous other activities planned on a daily basis. These neighborhoods can maintain a sense of connection without risking the health of their residents by hosting drive-in bingo nights. The caller can use a microphone to announce the numbers, while players remain safely in their cars.
Drive-In Dance Parties
Going out to a club is not permitted currently, but there are no restrictions on dancing in cars. Create a dance party in wheels by broadcasting music to attendees in their cars.
Drive-In Support Groups
If there was ever a time we could all use a little extra support, it's now. But those people that rely on support groups for their personal health and wellness may not be getting the support they need. With drive-up support groups hosted in parking lots of churches or community centers, attendees can listen in for the encouragement, comfort, and relief they need to get them through this tough time.
Drive-In Storytime for Kids
Every parent is looking for new and entertaining ways to keep their kids occupied. Libraries, theaters or other community centers can provide interesting and educational storytime for kids. One person can read a story, while families listen in from the safety and comfort of their vehicles.
Drive-In Lectures or Educational Events
Museums, libraries, theaters and other community-oriented organizations have been forced to shut their doors, but their parking lots are sitting empty. Hosting a lecture or educational event in these deserted lots provides some much-needed entertainment and a feeling of connection for the community.
How Can Any Business Offer These Drive-In Audio Events?
With our partner company Broadcastvision Entertainment, we're able to broadcast audio from any audio source to smartphones.
Our drive-in audio solutions allow you to broadcast audio to smartphones or tablets. Listeners simply download and open the AudioFetch App from the app store, and then they can listen in real-time via their smartphone or any Bluetooth speaker.
We're currently offering three different drive-in audio packages based on the total number of listeners–100, 150 or 250 listeners. All of these packages include AudioFetch equipment, a wireless router, and ethernet and power cables. And they're all on sale! Click the button below to learn more about these packages and place your order.
We also offer an FM Transmitter, which broadcasts a message to people listening to the radio while sitting in their cars (up to 300 feet in any direction). This has been a very popular item for drive-in audio.
If you have questions about our technology or hosting a drive-in style event in your parking lot, contact us today to discuss your event and which solution is right for you. We look forward to supporting other small businesses and organizations, helping to keep communities connected, and giving new life to beloved drive-in theaters!